Deeply ingrained in the organization, these values are cornerstones to Vesta's foundation. They set the expectation and guide every action. These values describe our culture and serve as a commitment from Vesta to every team member, resident, partner, and investor. Vesta holds the belief that these values foster an environment of empowerment and allows all the thrive. Quite simply, do well while doing good.
Communication
We interact with transparency and clarity.
passion
We enthusiastically pursue exceptional performance.
moral alignment
We conduct ourselves with integrity, empathy, and trust.
collaboration
We are inextricably linked, working as a team to achieve our goals.
accountability
We deliver on our commitments and take responsibility for our actions.
Vesta Corporation was created in 1998 by Steve Erie and Arthur Greenblatt. Steve and Arthur began working together developing

affordable housing in 1981. Their shared passion was "doing well while doing good."

Pioneers in the use of the Low-Income Housing Tax Credit program since its inception in 1986, Steve and Arthur made Vesta a sought-after partner for national lenders, investors, and tax credit syndicators. Vesta was born after Steve and Arthur expertly, and aggressively, navigated through the banking crisis of the late 1980s and early 1990s and spent most of the decade fixing broken deals as a result.

Steve's relentless focus on planning and financial management, coupled with Arthur's vision and ability to develop creative financing plans, were instrumental in making Vesta a continuously profitable corporation. To date, Vesta has closed over $1 billion in financing for the development of more than 20,000 apartment homes in 13 states and the District of Columbia. After a remarkable career in the affordable housing industry, Steve retired in 2016. Arthur continues to lead Vesta driven by the people behind the organization.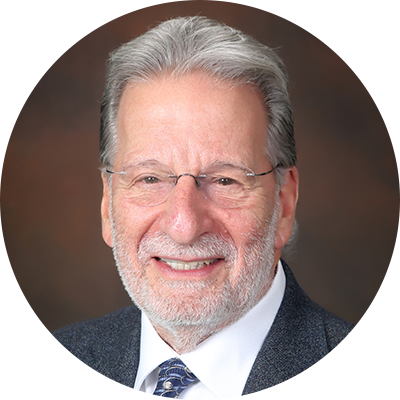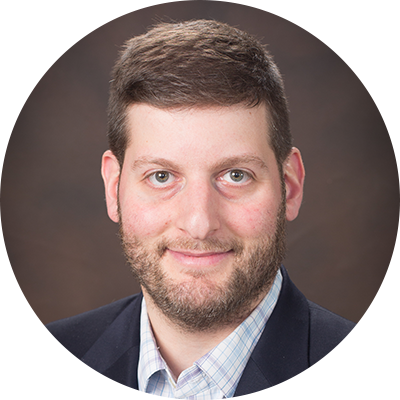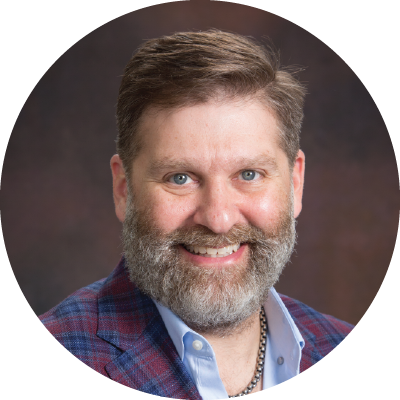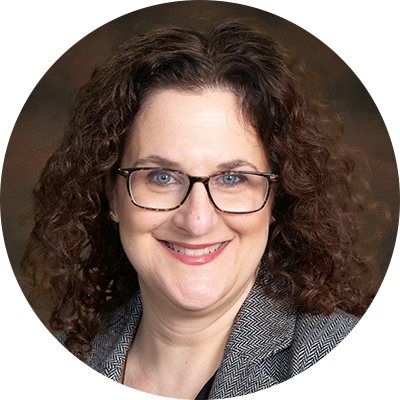 KRISTINE BIDMEAD
Vice President &
Corporate Controller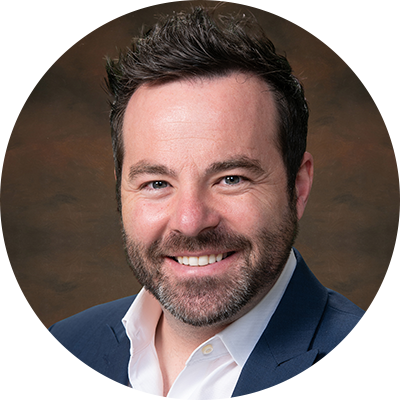 ANDREW LUND
Vice President of
Property Management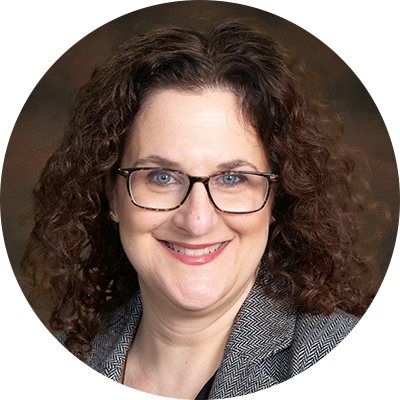 Kristine Bidmead | Vice President & Corporate Controller
Kristine joined Vesta in 2000 as a member of Vesta's property accounting team before eventually joining the corporate accounting team. She is now responsible for financial reporting, tax reporting, cash management, and the budgeting and forecasting of Vesta Corporation and its affiliates.
Prior to joining Vesta, Kristine worked for McGladrey & Pullen, LLC and received her Certified Public Accountant designation.
Kristine is a graduate of Salve Regina University with a B.S. in Business Administration, Accounting and Finance.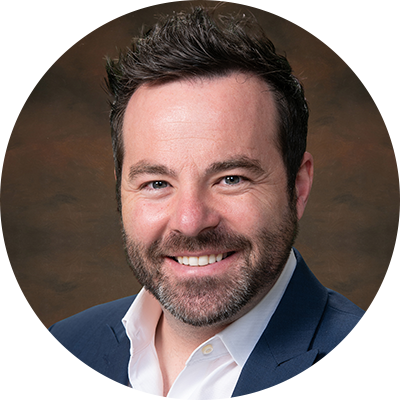 Andrew Lund | Vice President of Property Management
Andy brings over 15 years of property management experience to Vesta. His role has him overseeing all of Vesta's properties. Andy has worked with market rate, affordable and tax credit housing, as well as managed acquisition rehabs and lease-up properties. His deep knowledge of practice, budgeting and forecasting are great additions to the team. 
Prior to joining Vesta, Andy was with WinnResidential for 14 years, most recently as Divisional Vice President, where he was responsible for a diverse portfolio of the company's owned and managed properties in the Northeast and MidAtlantic. Andy has been a member of the Connecticut Apartment Association (CTAA) for many years as a board member and President. He currently is a Lifetime Director for the CTAA. He has received industry accolades from CTAA and NAA for excellence in leasing, site, and regional management execution. 
Andy is a Certified Apartment Portfolio Specialist through the National Apartment Association (NAA). He also is a Specialist in Credit Housing Management through the National Affordable Housing Management Association (NAHMA) and is a Certified Credit Compliance Professional (C3P) through Spectrum Companies. He earned a B.S. in Business Management from Keene State.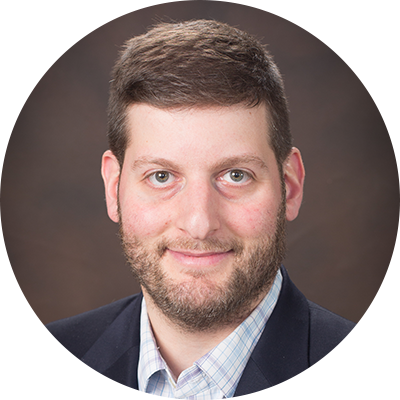 Aaron Greenblatt | Counsel
Prior to his start as Counsel at Vesta in 2017, Aaron practiced at a major Connecticut law firm representing lenders and borrowers, including Vesta, in various commercial transactions. He has extensive experience in representing companies in acquisition and construction financing, bond and tax credit transactions, and traditional mortgage financing. 
Aaron utilizes his diverse legal background in all aspects of Vesta's business. He is an advisor to Vesta on contract formation, operation and interpretation, and oversees other legal matters, including providing guidance on the legal effects of purchases, sales, refinances, capital transactions, and dispositions of Vesta's various properties and partnership interests. 
Aaron graduated cum laude from Tufts University and has a J.D. from Brooklyn Law School.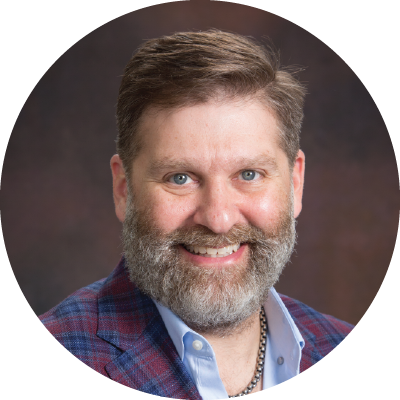 Joshua Greenblatt
Josh Greenblatt joined Vesta in 1998. He has wide-ranging experience in all facets of the business, including finance, acquisitions, dispositions, development, corporate oversight, property management, and construction. He currently leads Vesta's property acquisitions team, overseeing each step of the process from deal identification and initial due diligence to negotiating with sellers and funding sources.
In 2018, he co-founded Choice Housing Investments, Vesta's strategic capital partner, which he continues to head today. Josh currently serves on the board of the National Housing & Rehabilitation Association.
Josh holds an M.B.A. from the University of Connecticut School of Business and a B.A. from Goucher College.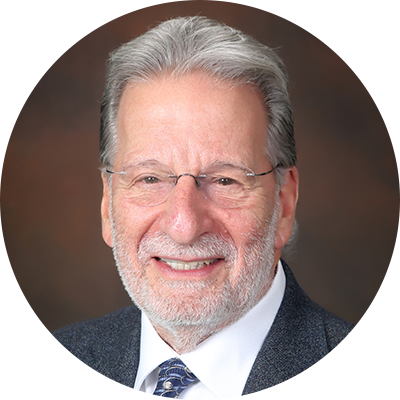 Arthur N. K. Greenblatt | President
As co-founder, President and CEO of Vesta Corporation. Arthur draws upon more than 40 years of affordable multifamily housing industry experience to make strategic decisions impacting the growth and longevity of the organization. As a leader of the organization, Arthur holds himself to, and expects of every Vesta team member, the embracement and embodiment of Vesta's vision and core values. Before starting Vesta from the ground up, Arthur practiced real estate law and was the first General Counsel of the Connecticut Housing Finance Authority. In his tenure at CHFA, Arthur helped to create the Uninsured Multifamily Mortgage Program and was responsible for devising creative workouts for troubled projects.
Arthur is a trusted advisor to cities, housing authorities, and partners across the country. He has a great deal of experience working with a broad range of debt and equity sources including tax-exempt bonds, conventional and FHA mortgage programs, and Low Income Housing Tax Credits. Arthur provides great strength in problem-solving and thrives off the challenge of financing a transaction.
Under his leadership, Vesta has become a sought-after partner in the industry. Arthur has a J.D. from the University of Connecticut, School of Law, and a B.S. from American International College.
1981 | Steve Erie & Arthur Greenblatt begin financing affordable housing
1986 | Inception of Tax Credit program: Steve & Arthur become pioneers in the use of LIHTC
1987 | Services expanded to include Property Management of owned affordable housing communities.
1990 -1994 | Banking Industry Collapse
1998 | Vesta Corporation is created after successful navigation of the Banking Crisis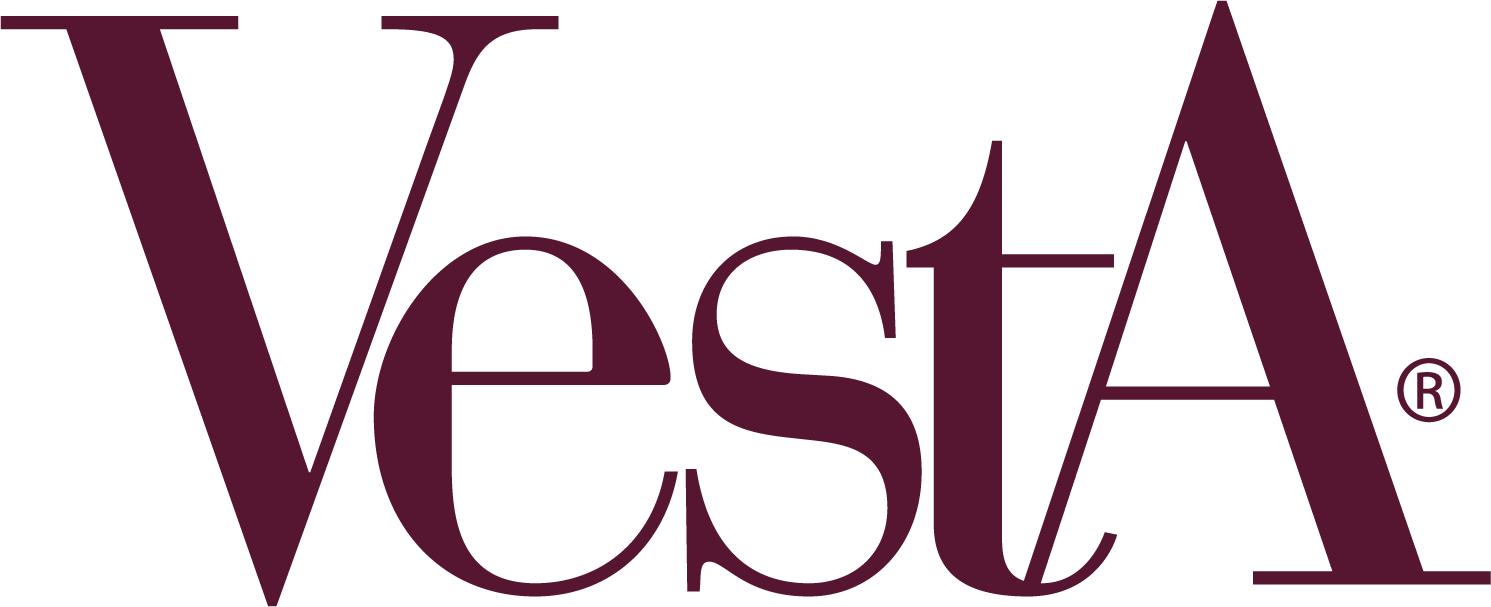 2001 | Vesta redevelops Rainbow Terrace, a 484-unit community in Cleveland, Ohio. The largest project to date. The total cost was $53.5M and included a state-of-the-art Learning Center for residents.
2008 | Vesta completes redevelopment of Countryside Village in New Jersey, a former workforce housing community that housed Seabrook Frozen Foods Company employees.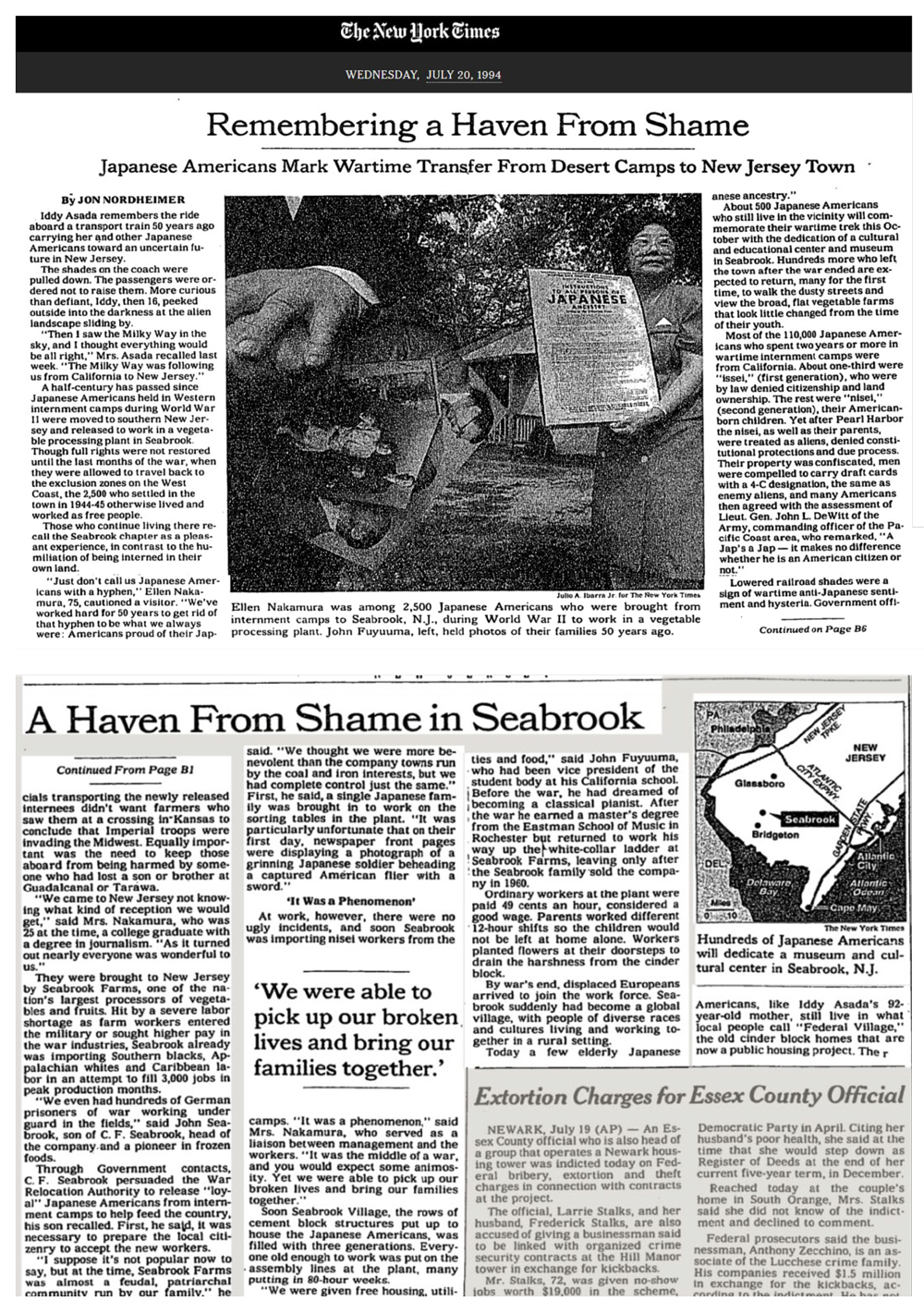 2011 | Clarity of the Vesta Vision emerges.

2013 | Moved into a new corporate office with over 200 employees companywide.
2016 | Steve Erie retires from Vesta. Congratulations, Steve!
2017 | In 2011, Vesta sets its first Big Hairy Aggressive Goal to grow to 8,000 units, doubling in size, by year end 2016. Vesta celebrated this exciting achievement!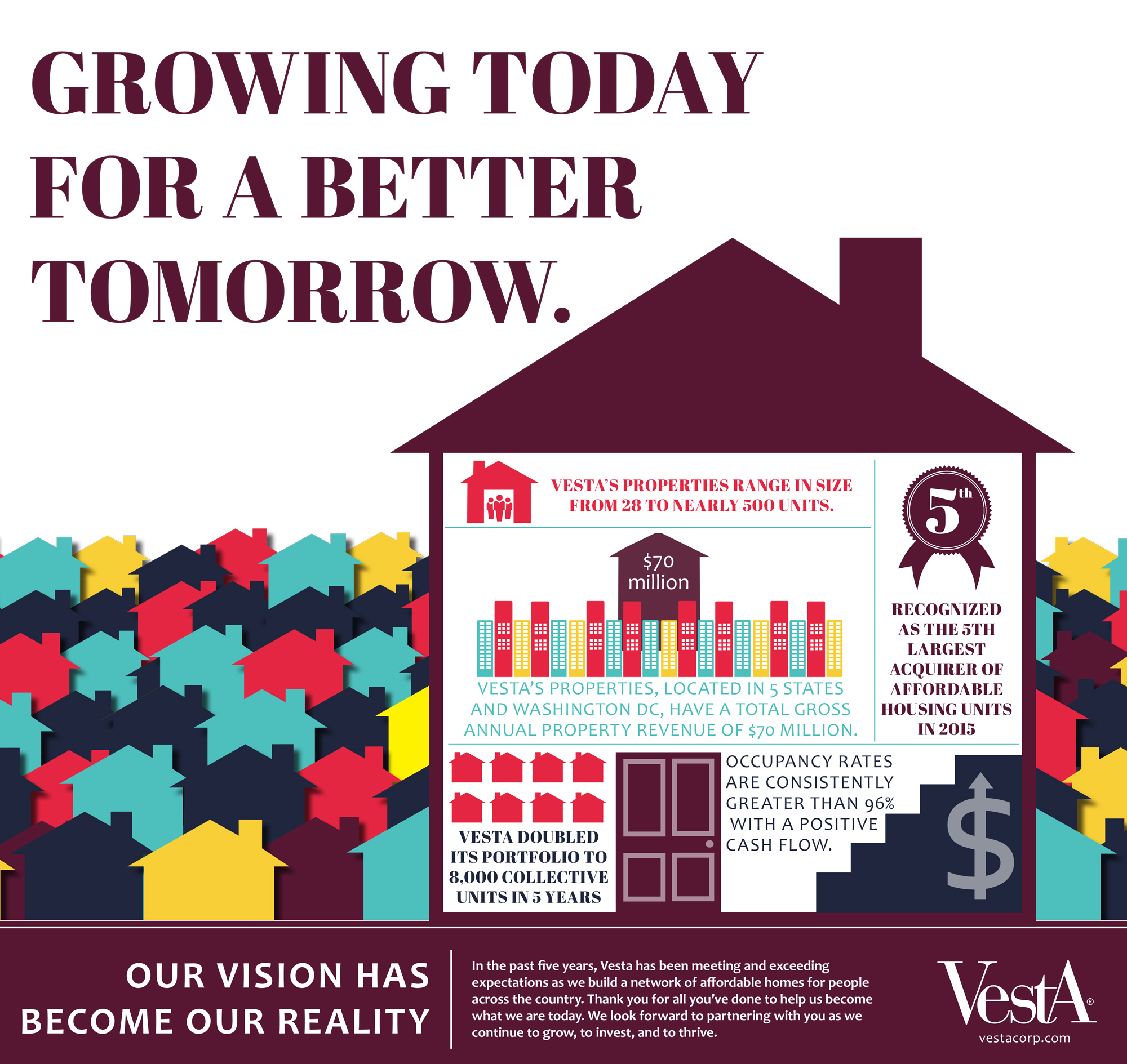 2020 | Completed the redevelopment of Park Yellowstone, on time, during the pandemic. Vesta moved to a remote working environment due to the COVID-19 crisis. Not only did Vesta avoid layoffs during the pandemic, but actually grew by adding more staff.
2021 | On the heels of Vesta's success in 2017, Vesta sets yet another goal to continue growth to 10,000 units – called 10-in-20. Vesta celebrates the on-time completion of Park Yellowstone redevelopment in Houston, TX during the early months of the COVID-19 pandemic.
PARK YELLOWSTONE
APARTMENT HOMES
Project Type:
Redevelopment
Completion Date:
June 2020
Residential Units:
210
Development Cost:
$30.2M
Funding Sources:
TDHCA Bond
Fannie Mae First Mortgage utilizing MTEB
CDBG-DR loan from City of Houston
LIHTC
Developer Loan

THE STORY:
Park Yellowstone is a 210-unit multifamily property in Houston, Texas. Vesta acquired the property in 2016 in order to preserve this essential housing for the current residents due to significant growth and investment in the area. 100% of the units at Park Yellowstone are restricted to residents earning 60% or less of the Area Median Income (AMI). 30% of the units are occupied by residents with incomes of 50% of AMI or less.
THE VISION:
Vesta came up with a plan that included a complete renovation of all 210 apartments and townhomes. A portion of the units were transformed into ADA compliant homes. The rest of the apartments received new kitchen cabinets, counters and appliances, bathroom vanities and lighting, new flooring, and new light fixtures.
Community enhancements included a renovated leasing center, new swimming pool, new gazebo, enhanced lighting, and installation of a state-of-the-art security camera system. The community also has an on-site daycare center, as well as case management services and resident activities on-site provided by Star of Hope Mission. The nature of these upgrades involved residents to be displaced from their units in order to safely rehabilitate each unit. A Learning Center and new fitness area were added as well. The buildings themselves received new roofs and entry doors while some units had foundation repairs done. Damaged sewer lines were repaired or replaced, and air conditioning condenser units were replaced as needed.
THE RESULT:
The renovations ensured Park Yellowstone will remain a vital provider of affordable housing in the greater Houston area. The changes to the community made it possible for residents to once again be proud of their homes. Park Yellowstone was awarded the Texas Apartment Association's Affordable Housing Award for creative and innovative initiative in affordable housing.
COUNTRYSIDE VILLAGE
APARTMENTS
Project Type:
New Construction
Redevelopment
Completion Date:
2006 – 2008
Residential Units:
283
Development Cost:
$70M
Funding Sources:
Taxable Permanent Financing
through NJHMFA
NJHMFA Home Express
Program
LIHTC

Conventional Construction
Loan

THE STORY:
Situated on 34 acres in Cumberland County's choice farmland district, Countryside Village was constructed in the 1940s to house workers of the Seabrook Frozen Foods Company. The Village consisted of 326 Section 8 apartments in 57 one-story, bunker-like buildings, which over time had become severely distressed.
The community had been rehabilitated in 1987, but the apartments were extremely small, the building systems were out of date and needed replacement, and the needs of older adults and persons with disabilities were not being met. Roads and parking were substandard, there were no community facilities and the Village was poorly designed, adding greatly to the impression of isolation and distress.
THE VISION:
Vesta set out to redefine Countryside Village, starting with demolition of the existing structures and creation of a new, viable, self-sustaining and attractive mixed income residential community. Existing residents were temporarily relocated on-site during construction. Due to a limit on the amount of New Jersey tax credits that could be awarded to a project in one year, the redevelopment was completed in three stand-alone projects with separate ownership entities and financing.
The redevelopment took advantage of the size and attractive setting of the community. The master plan provided a clear and coherent road system, connecting the site to the surrounding community, while providing traditional frontages for new housing, and a safer gateway in and out of the neighborhood. Vesta replaced the one story flat-roofed structures with attractive two and three-story buildings sporting peaked roofs, dormers and front porches using quality façade materials.
Phase I consisted of 100 new apartments, constructed and fully occupied in 2006. All apartments are affordable to families earning less than 60% of median income in the county. Phase II consisted of the construction of 90 new, attached and architecturally complementary apartments. The project was fully constructed and occupied by year-end 2007. Included in Phase II was the construction of a Management Center with associated laundry and community space facilities. Phase III began in the fall of 2007 and was completed in 2008. It consisted of the new construction of 93 apartments in 18, two-story attached buildings. Phase III also included a 2,048 square foot Community Learning Center.
Because of technical program restrictions, Vesta had to opt out of the project-based Section 8 contract for all existing apartments; therefore the new apartments are market rate affordable.
THE RESULT:
The new Countryside Village Apartments face directly onto new and existing streets with on-street parking – all geared towards promoting safe, walkable, and livable streets and blocks. Rear yards were developed to include additional parking and open space such as tot-lots and gardens. The community now offers apartments accessible to older adults and persons with disabilities. The new Community and Learning Center was strategically placed central to the entire Village, promoting an enriching and supportive community environment.